Jajaja! Bonito error. Acabo de notar que de golpe, un grupo de pelos de mi cabeza se han vuelto color plata. Desde que los bastard…programadores de ITnet programan utilizando SVN, cada semana tengo una perlita que degustar. Pero bueno, la cara del jefe de programadores cuando ve que, por fin,  puede hacer un svn merge sin error no tiene precio. Así que al tema.

Cuando empezó la tortura del SVN, hice uso de los repositorios estándar que instalaban la versión 1.5. Ningún problema. ¿Oh si? Los moradores de las arenas del departamento de programación, querían la última versión de SVN porque así decían podían hacer unas cosas molonas más divertidas que un mono con traje de botones. Así que lo actualizamos al SVN 1.6.
Todo ha ido más o menos bien, hasta que han tenido que hacer un svn merge, que Dios me convierta en rana si sé que leches hace eso. En fin, que el programita de turno (Aptana, Eclipse, o Tortoise) daba un error raruno:
trying to use an unsupported feature svn: Retrieval of mergeinfo unsupported by
Al parecer, se debió a que, al pasar de SVN 1.5 a 1.6, debíamos ejecutar el comando
# svnadmin upgrade /srv/svn/mi-proyecto
Después de ejecutar eso los progamitas ejecutaron bien el comando y los programadores volvieron a sus cuevas satisfechos con el botín.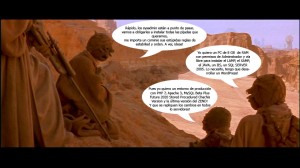 Un grupo de desarrolladores esperando pacientemente asaltar una caravana de humildes administradores de sistemas
Links
http://subversion.tigris.org/svn_1.5_releasenotes.html#repos-upgrades